Trust.Zone VPN 2020 Free Trial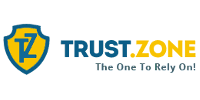 Trust.Zone's free trial is a great chance to test out their services before deciding about whether or not to buy a package of theirs. Though with some restrictions, this trial still provides you opportunities to visit the most popular VPN destinations and unblock restricted content.
Free 3-Day Trial of Trust.Zone
Try out Trust.Zone today with 1GB of bandwidth and get a taste of the unique VPN solutions the company offers. From extended proxy support to a developed Windows client, they are fit for browsing and general internet activity.