DesktopOK 4.77 released October 5, 2017
Save and restore the positions of the Windows Desktop Icons.
Automatically hide and display desktop icons (!! unique function of program AutoHideDesktopIcons 2.92)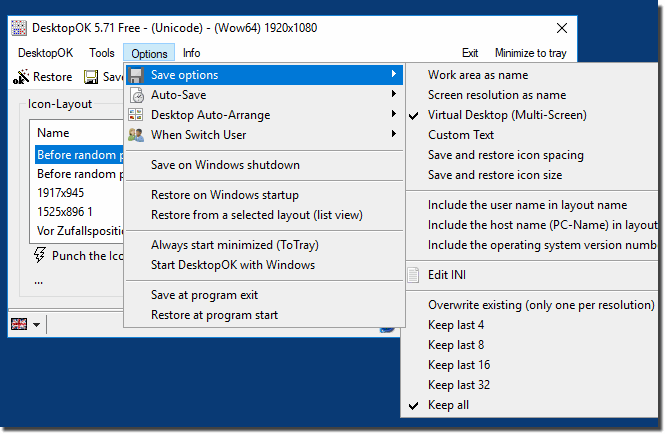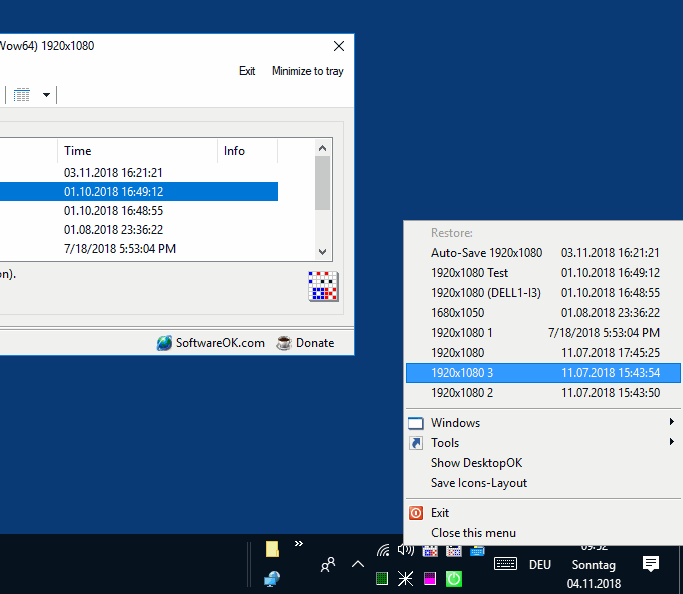 DesktopOK is a small but effective solution for user that have to change the screen resolution often. t is also good for windows users who often have to work with a projector on the notebook eg laptop or tablet-pc.
After you change the screen resolution you can find an icon chaos on the windows desktop, as if a bomb had hit it.
The icon position will shift and Windows will not correctly restore the desktop icon position.
DesktopOK has also other helpful functions, you can find this, in the Main-Menu, Tools.
DesktopOK does not have to be installed and can be executed easily from the desktop, and can be carried on a small usb-stick or other memory device. Start the program. The first time that you use it the program it will present you with a license screen. The program is free and the license info is only displayed the first time (per PC).
Features:
– Save your favorite icon locations for each screen resolution.
– Easily minimize all of the windows on your screen
– Launch at Windows startup.
– Each user can then have his own arrangement.
– Portable Windows app.
– Autosave the Desktop Icon Layout
– Change Language
– Maximize the number of windows desktop icon
– Change Windows Desktop Icon Size
– Minimises to tray area for easy access.
– Multilingual
– Automatically hide and display desktop icons
– Portable
Changelog:
New in version 4.77 // October 5th 2017
Updating of the language files in DesktopOK.
Improvements and minor adjustments in DesktopOK
New in version 4.76 // August 25th 2017
Small adjustments in Desktop-OK, and new language: Slovak.
Thanks to Milan K. for the Slovak language
Full changelog: http://www.softwareok.com/?seite=Freeware/DesktopOK/History
OS: Windows 10, 8.1, 8, 7, Vista,  XP.
Home: http://www.softwareok.com/?seite=Freeware/DesktopOK
Download
x32: http://www.softwareok.com/Download/DesktopOK_Unicode.zip